Global Bright Bars is a new division of Global Special Steels Products, exclusively focused on producing high quality bright bars for the automotive industry. Global Special Steels Products is a 100% subsidiary of Global Steel Wire and incorporates four companies producers of steel wire for the automotive industry, mechanical engineering, infrastructures, ... [+info]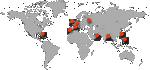 A CELSA GROUP™
COMPANY
The companies that operate under the CELSA GROUP™ brand have become situated among the leading steel producers in Europe.
CAREERS
Work with us.
Celsa Group™ offers a world of
opportunities in its global network.